Romantic man!Blake Shelton's Emotional Wedding Song Only Written As Vows To Gwen Stefani!
Blake Shelton is gearing up to release the deluxe edition of Body Language later this month and the project will feature four-new tracks, including the song that the country superstar wrote his wife Gwen Stefani as wedding vows.  Co-written by Shelton alongside Craig Wiseman, the aforementioned track, "We Can Reach The Stars," will appear as the final track on the deluxe version of the album. The emotional tune was first heard by the guests of Shelton and Stefani's wedding, as the country hitmaker brought everyone, including himself and his wife, to tears with the debut of the song, according to the wedding's officiant, Carson Daly.  "He sings her a song, while he's crying, that he wrote specifically for her… [There was] not a dry eye in the house, and that was really a highlight [of the wedding]," Daly revealed.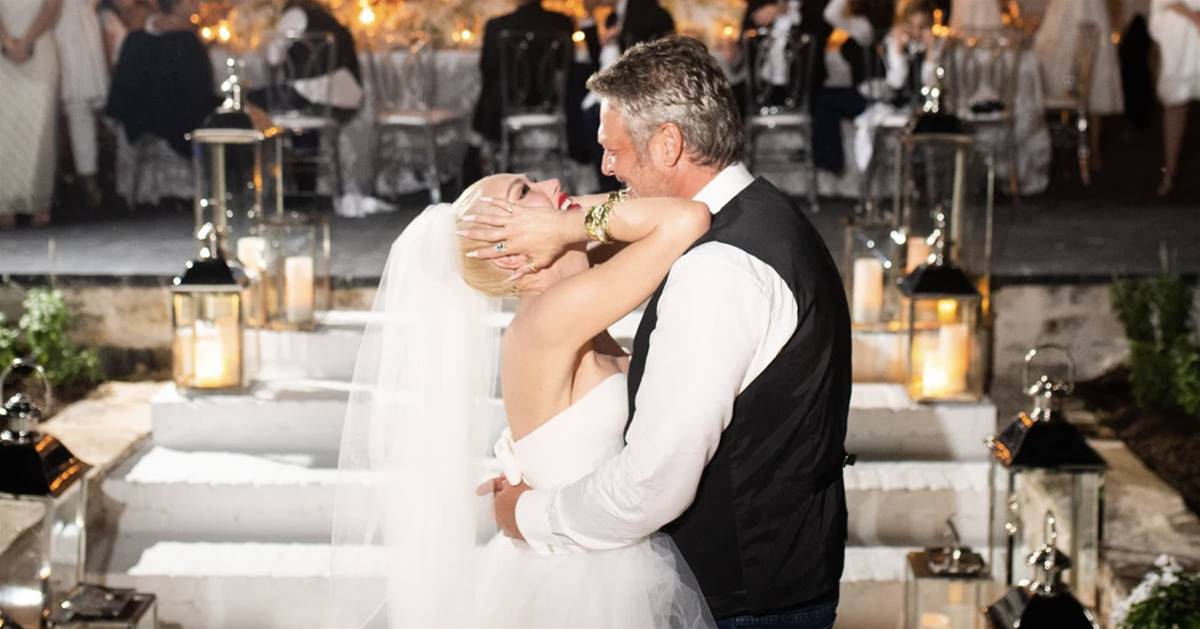 Previously, during an interview with SiriusXM's  Storme Warren on The Highway, Shelton discussed the writing process behind the song he wrote for his wife,  Stefani, and to share that he will be releasing the romantic ballad.
The country superstar co-penned the heartwarming track as his wedding vows, and reportedly sang the song to Stefani during their intimate wedding ceremony on July 3 in Oklahoma, in front of the hitmakers closest family and friends. 
While the final product created quite a positive stir among country music fans, Shelton confessed that it was a challenging project to take on. "I started trying to write a song because that's kind of the opposite of what she would have expected me to do. I'm to the point where I just don't write that many songs anymore," the star told Warren during the exclusive interview on SiriusXM.
"It's just like pulling teeth for me and something she's always on my case about. So, I started writing this song, and I can only get so far with it, cause I didn't want it to just be something for that moment. I wanted it to be something that was bigger, and I saw I needed help. So, I called Craig Wiseman. I said, 'Craig, you got to help me with this thing. Like, I'm not joking around here.'"
When the two got to work, Shelton was open and transparent about his primary goal. "I wanted something broad, and also specific to Gwen. So, that's what I did," he adds.
During the conversational interview, the beloved country star confirmed that he previously recorded "Reach The Star" in a studio in Nashville. "I don't know what or when we're going to do something with it, but it's something that I wanted to have a recording of."
Radio host, Storme Warren sparked an interesting dialogue about the hard decision on whether or not to keep the song private or to release the potential top-charting hit to the public. Shelton quickly responded with a confident answer.
"I think it's something I want to share because I'm really proud of it. When you get married to somebody, you're announcing to the world, 'Hey, this is my wife, just so everybody knows.' That's why we wear these rings," says Shelton. "I feel that way about the song. For me, It's something I want people to hear and know because I'm proud to be married to Gwen and so proud of that song."
Arriving on December 3, the deluxe edition of Body Language will feature four new tracks in addition to the album's original 12-songs, including duets with HARDY and Brooks & Dunn.
Body Language has already yielded Platinum-certified No. 1 smash "Happy Anywhere" with Stefani. The deluxe edition also features his brand-new single "Come Back As A Country Boy," which is available now, listen below.