Adorable lovebirds!Blake Shelton and Gwen Stefani's Surprise Duet Has Fans Swooning
Over the weekend (April 2), Blake Shelton made the trip to San Diego, CA where he headlined the sold-out Boots in the Park concert. Fans anticipated a star-studded lineup including Brett Young, Carly Pearce, The Band Perry and more, but what they didn't expect was a surprise appearance by Shelton's other half.
Pop sensation Gwen Stefani joined her husband during his set, giving fans a heartfelt duet of their song, "Nobody But You."
"Did I say Gwen Stefani? I meant Gwen Shelton" Shelton announced to the crowd, earning a roar of excitement and laughter.
The "Just A Girl" singer sported a red and black fringe flannel with cutoff shorts and, of course, her cowboy boots as she and Shelton hugged it out on stage. 
Their chemistry radiates both on stage in front of thousands of people and off. With their busy schedules, it's not every day that the lovebirds get to perform together, so this was definitely a treat for fans.
Following their performance, Stefani made her way back to Burbank, CA for an appearance on The Ellen DeGeneres Show. She was there to promote her new makeup line, GXVE Beauty, but ended up reflecting on married life as their one-year anniversary approaches.
Ellen couldn't help but wonder where her invite to the wedding was after Stefani had previously told her she would be her maid of honor when she finally tied the knot with Shelton.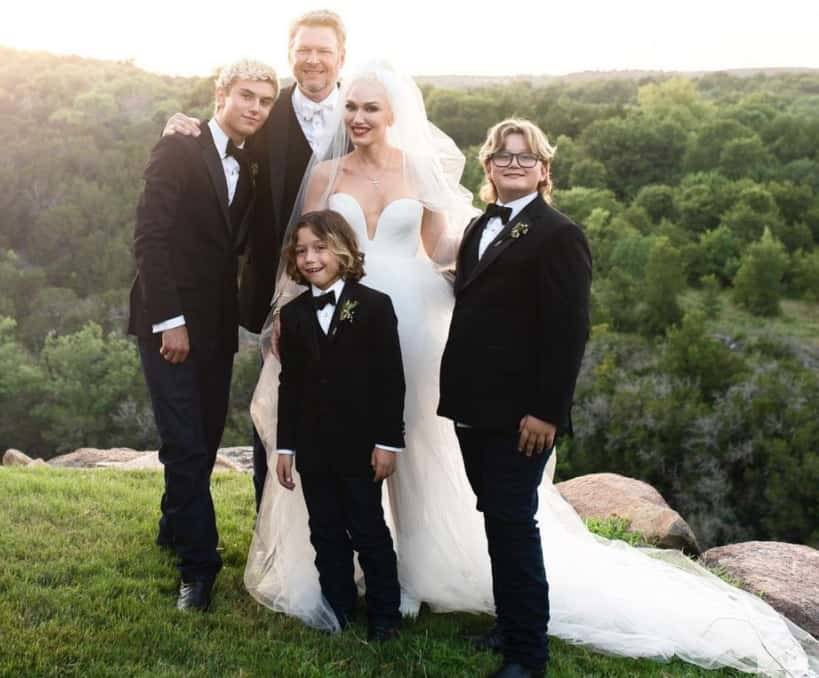 "COVID," Stefani responded honestly. "It got really small. I had this fantasy of building like bleachers, but it got smaller and smaller, and as you know, the Lord works in mysterious ways."
"It was the perfect amount of people," she said referring to her wedding on their Oklahoma ranch last summer. "It was so intimate. It was so exactly what it needed to be," she said, adding that the "marriage itself is just so fun."
After the lovestruck star explained she and Blake Shelton are "best friends," she also shared that her new life involved helping out with the care and keeping of their land.
"He literally texted me an hour ago. He flew home today. We are doing a major – when we do things, we go big. We're doing major gardening," she said.
"We're talking about daffodils, we're talking about like tulips. We did all the bulbs, now we're doing wildflower seeds, now we're doing Zinnias. So I sent him home to figure out how to till all the land and dig a well."
Stefani continued to say that when she does arrive home, she will most likely find him "on the tractor turning the dirt for me." This is an act that she genuinely appreciates from her husband.
"I think about all the different seeds that were planted in my life, these seeds of faith, the seeds of these wild ideas I had that actually came true, and even the one to fall in love with Blake. It's crazy because now I'm gonna go back there and plant so many flowers and they're gonna bloom, it's so exciting," she admitted.