Gwen Stefani in Disbelief As She Shares Emotional Video With Blake Shelton: 'I Could Not Dream this Up!'
The singer took to Instagram to share her disbelief after walking into a room backstage that had been decorated with balloons and banners to mark the first anniversary of her.
Gwen appeared completely taken aback by the sweet gesture and was joined by Blake and some other friends, including GXVE ambassadors, who all raised a glass of champagne to toast her incredible achievement.
Throughout the video, Gwen can be heard repeating:  "That's so nice. Oh my God," while appreciating the effort put into her party, which also included a delicious-looking cake adorned with edible GXVE products by Brown Egg Bakery.
Blake also showed his admiration for his wife and was filmed in a cheeky moment kissing a giant banner of Gwen's face.
Blown away by the thoughtfulness of the party planners, Gwen captioned the video: "I literally cannot believe @karabritz put together a surprise first bday for @gxvebeauty!!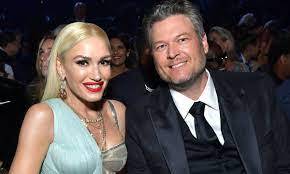 "I could not dream this up - Kara, u and the GXVER community along w my love for makeup is why I started this brand."
Gwen revealed her beauty venture back in March 2022, wowing in multiple head-turning outfits including a netted dress that featured a daring thigh-split.
Posting a video on Instagram of herself modeling her debut collection, Gwen was her own best advertisement as she wowed with her signature bold red lip and winged eyeliner.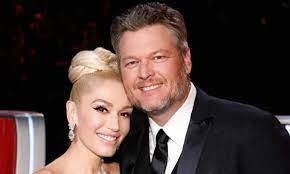 "Before the music, it was makeup. Bold color. Formulated clean. Highly pigmented makeup. Elevated classics. Performance that won't miss a beat. Me, you, yours," the tagline on the clip read.
Captioning the post, Gwen shared her excitement over the launch, writing: "So excited to FINALLY share GXVE with you!!! almost 4 years in the making … u can now get it online @sephora @sephoracanada, and in stores on March 10th. I can't wait for you all to have it!! gx."