Watch Blake Shelton and Gwen Stefani's Flirty Super Bowl Music Fest Duets
Some of music's biggest stars, including Blake Shelton, Gwen Stefani, Mickey Guyton, Halsey, Green Day, and Miley Cyrus, welcomed Super Bowl LVI to Los Angeles at the 2022 Super Bowl Music Fest.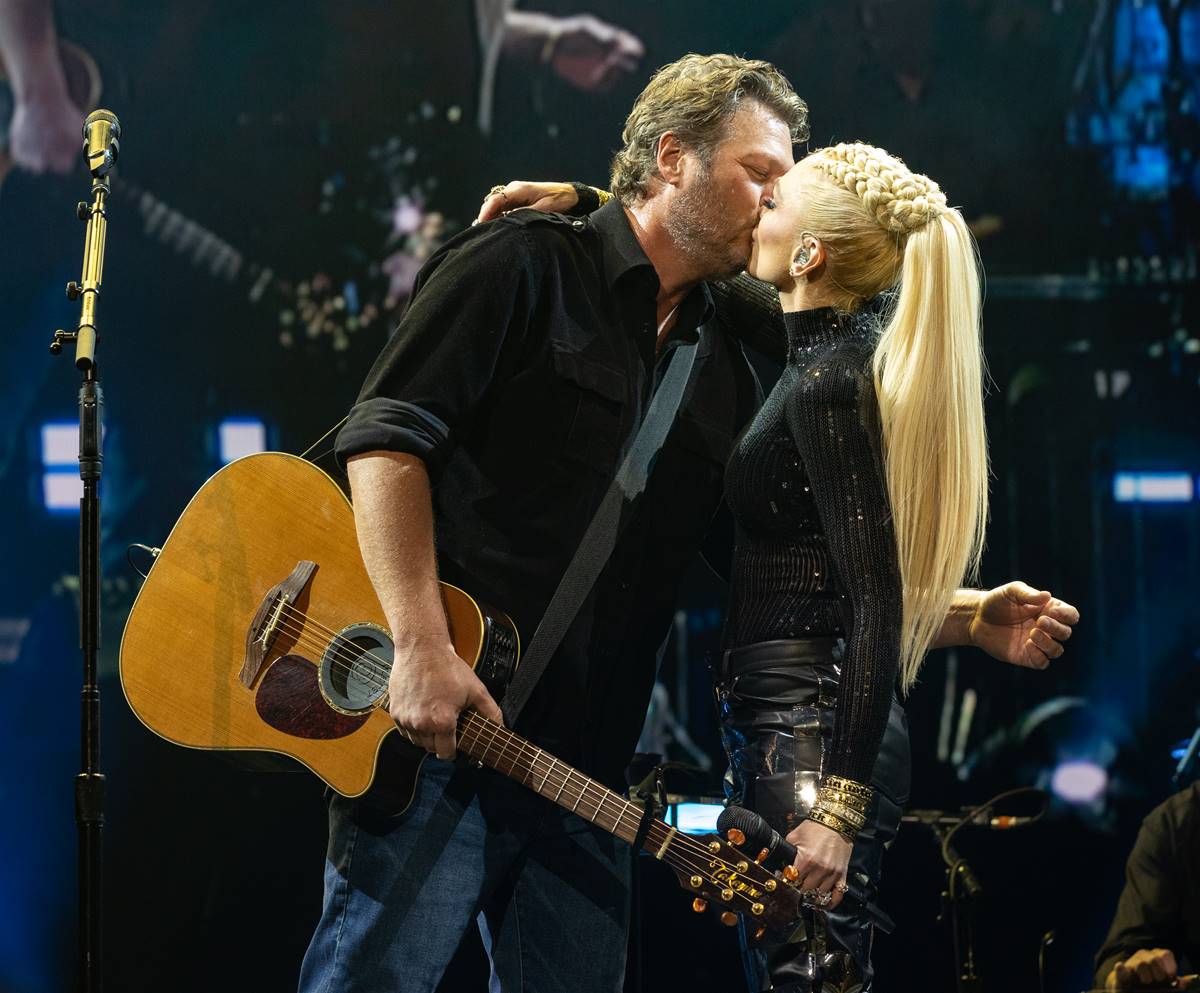 Taking place at Crypto.com Arena in L.A., the star-studded festival kicked off on Thursday, Feb. 10, and ran through Saturday, Feb. 12. 
Shelton and Stefani performed on Friday night alongside Guyton and joined forces for a few flirty performances during Shelton's set. 
The married couple first performed their chart-topping duet, "Nobody But You," together before Shelton explained why their collabs came so early in his set. 
"Normally, if I do a show and Gwen comes out, we normally do it towards the end because it's a big deal. That's Gwen Stefani right there," he said from the stage. "But, Gwen wants to start drinking tequila now, a lot of tequila, so we were like let's just bring her out towards the beginning so she can get down to business, but we do have one more song to do before she starts that."
They went on to perform their second No.1 hit, "Happy Anywhere." 
The love birds, who tied the knot last summer, looked as happy as ever as they gazed into each other's eyes while singing. They also shared an intimate kiss before Stefani left the stage. 
"Nobody But You" appears on Shelton's album, Fully Loaded: God's Country. Shelton first heard the song after songwriter Shane McAnally, who co-wrote the tune alongside Ross Copperman, Josh Osborne and Tommy Lee James, pitched it to him while he was on set at The Voice in Los Angeles. He fellin love with the song and immediately decided to release it as a duet with Stefani. It later became Shelton's 27th career No.1 and Stefani's first country chart-topper. 
"Happy Anywhere" followed suit. The song was co-written by Ross Copperman, Josh Osborne and Matt Jenkins and went on to become Shelton's 28th No.1 and Stefani's second country radio chart-topper. 
Click above to re-live their on-stage collaborations at Super Bowl Music Fest.