'Really Emotional': Gwen Stefani Puts Range of Feelings on Full Display as Final four Singers Perform Live on The Voice Finale!
Gwen Stefani got rather emotional on The Voice on Monday night, fighting back tears and jumping to her feet to applaud.
The 46-year-old No Doubt singer, who is dating her fellow coach Blake Shelton, got particularly excited over one of his protégées – 17-year-old Emily Ann Roberts from Tennessee.
The pretty teenager sang Burning House, by Nashville singer Cam – a departure from her usual classic country choices.
Scroll down for video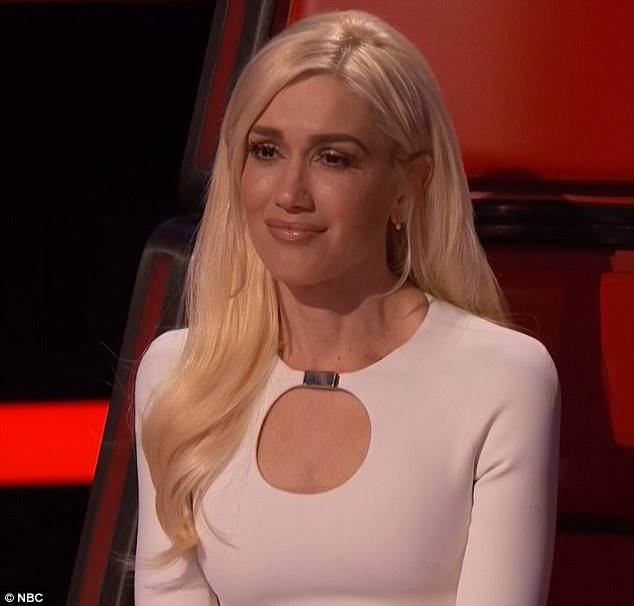 Getting emotional: Gwen Stefani showed a range of emotions on Monday during the first part of The Voice finale
'I want to look at you all night,' gushed Gwen, who has recently split from her husband, Bush frontman Gavin Rossdale.
'You also know how to deliver the intention of the lyric at 17? I don't know how you do that,' she marveled.
'Flawless,' commended Pharrell Williams, 42.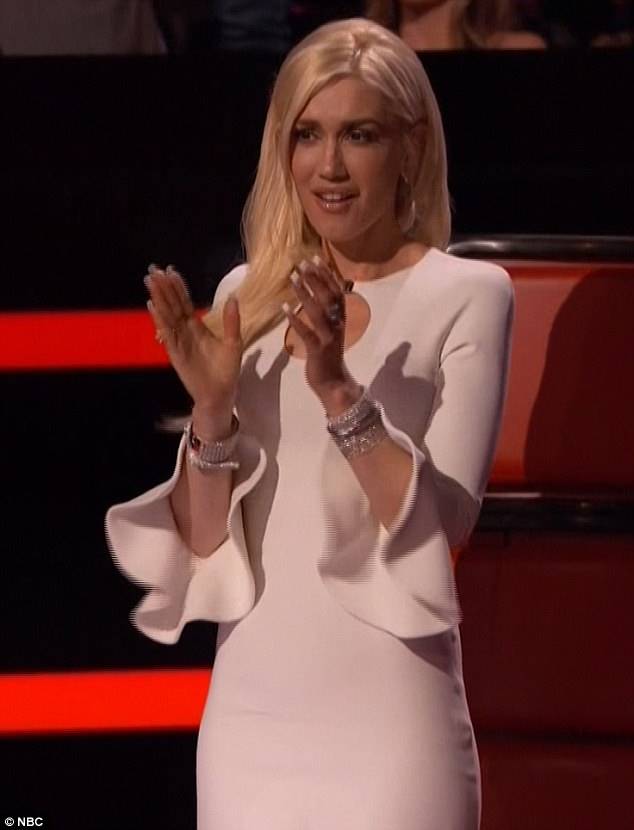 Standing ovation: The No Doubt singer stood up to applaud during the two-hour show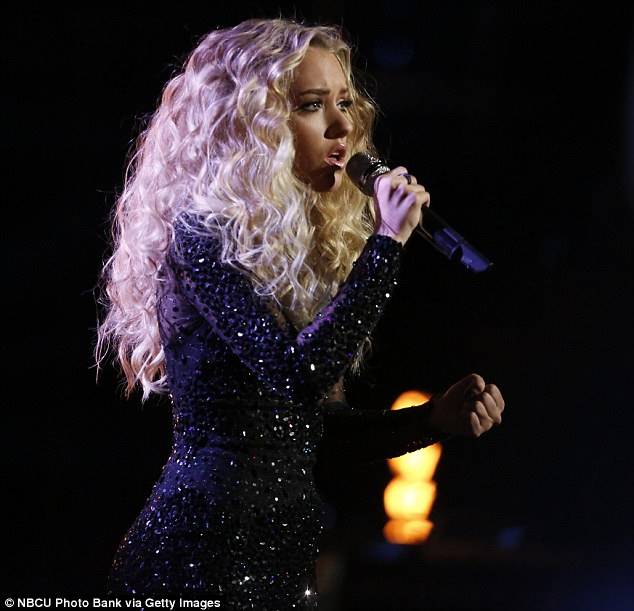 Teen talent: Emily Ann Roberts impressed the judges with her rendition of Burning House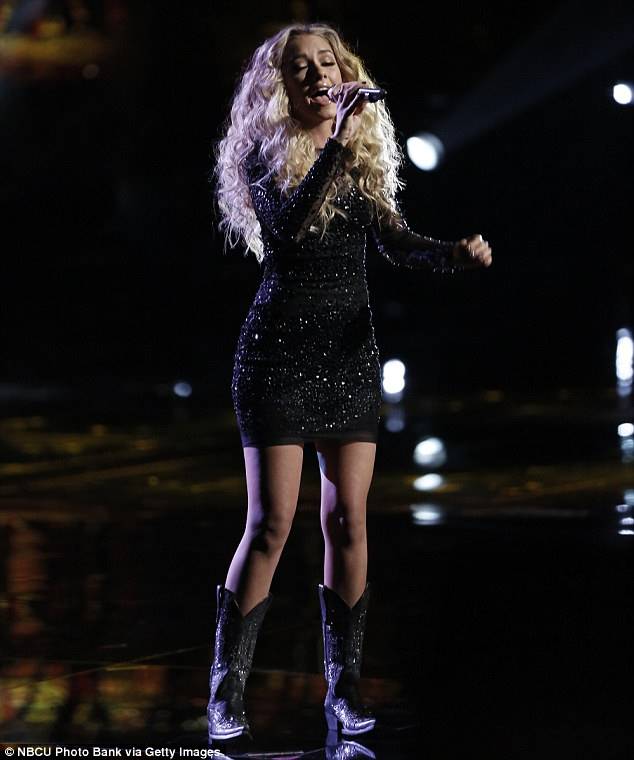 Country singer: The Tennessee native has been mentored by Gwen's beau and fellow judge Blake Shelton
Emily's performance took place during part one of The Voice's live finales as the final four singers competed.
Each contestant sang one 'holiday song', plus one personal choice and a duet with their coach.
Kentucky pop singer Jordan Smith opened the night with Climb Ev'ry Mountain from The Sound of Music.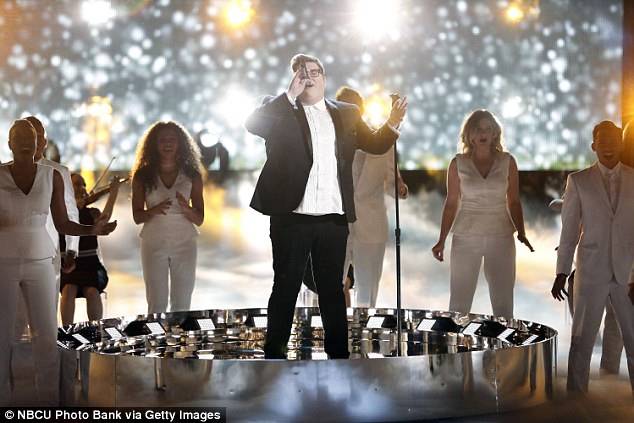 The frontrunner: Jordan Smith has been the frontrunner the whole season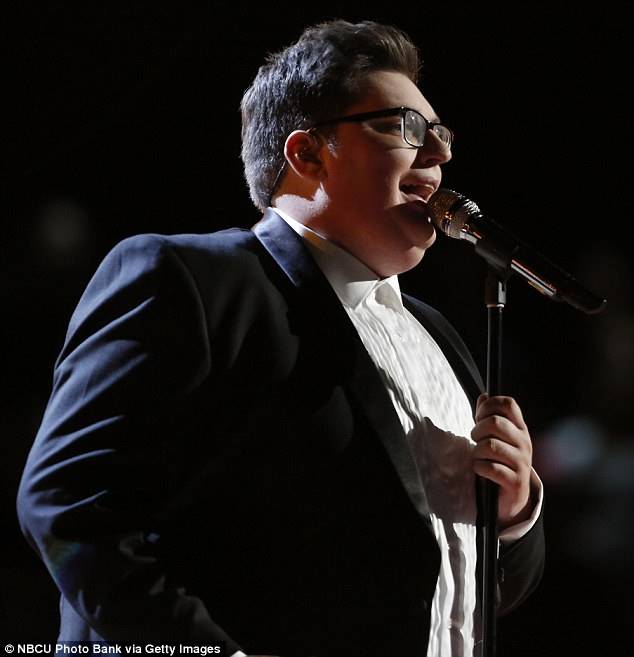 Powerful voice: The singer showed his incredible range on Climb Ev'ry Mountain
The humble 22-year-old singer brought the house down with Julie Andrews' challenging classic – hitting a prolonged high note at the end.
Blake said he was 'consistently great' while Pharrell called it 'incredibly moving'
Gwen was holding back the waterworks.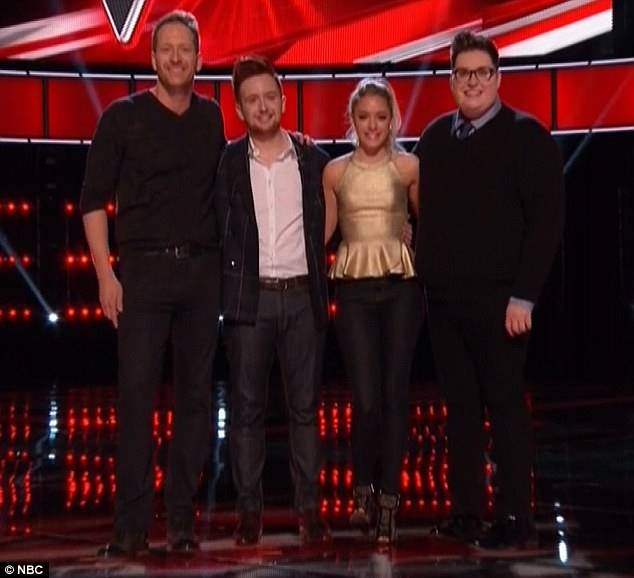 Final four: Barrett Baber, Jeffery Austin, Emily and Jordan competed in the finale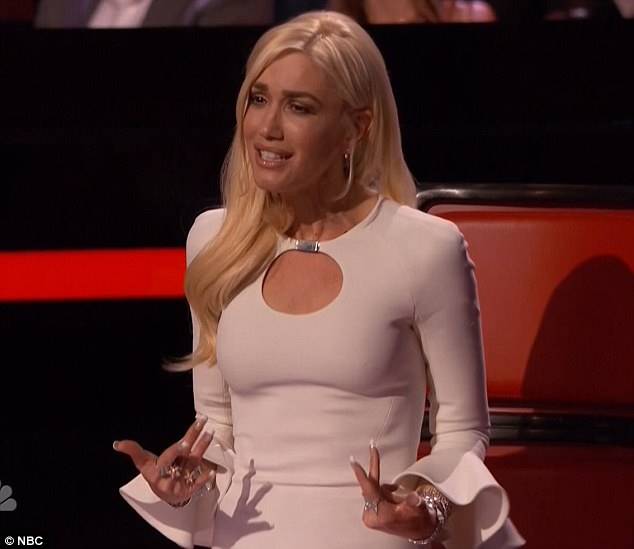 Feeling it: Gwen was moved to near tears by Jeffery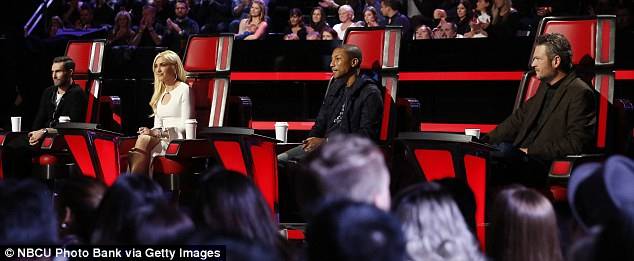 The judges: Adam Levine, Gwen, Pharrell Williams and Blake had high praise for the singers
'If it wasn't for the make up, the floodgates…I'd be done, done,' she cooed.
Jordan later teamed with his mentor Adam Levine for God Only Knows by The Beach Boys.
'Best song ever written in my opinion,' said the Maroon 5 frontman.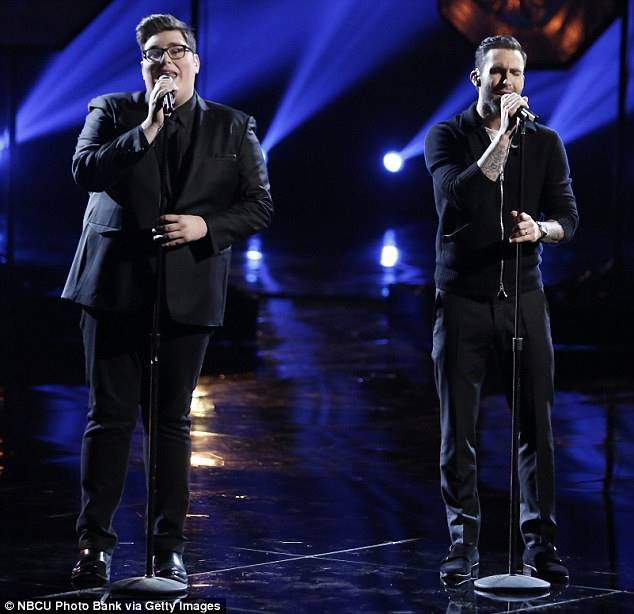 Nailed it: Jordan and his coach Adam nailed God Only Knows by The Beach Boys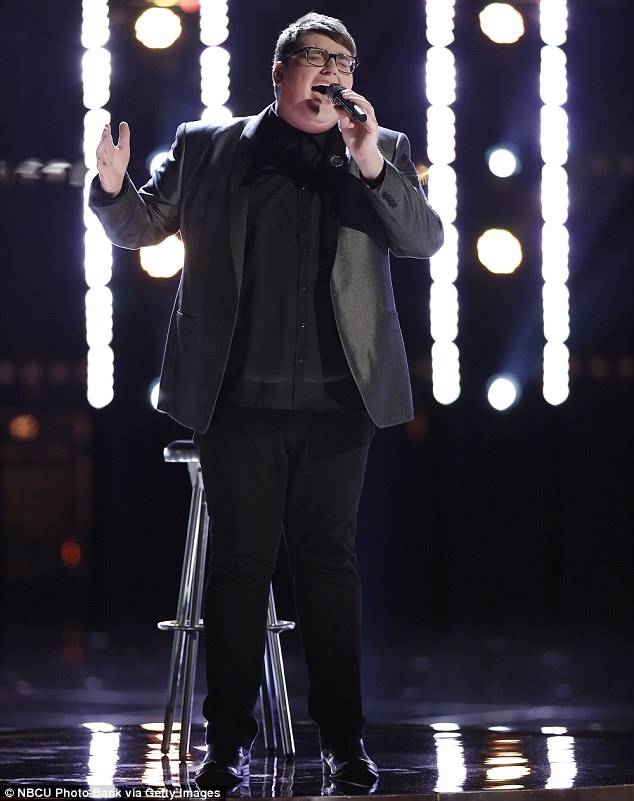 Christmas song: Jordan also performed Mary Did You Know as his Christmas song
'We sound like the frigging Beach Boys,' he boasted later in rehearsals.
Jordan's Christmas song was Mary Did You Know by Pentatonix.
'I think the people are ready for you to make a record,' said Pharrell.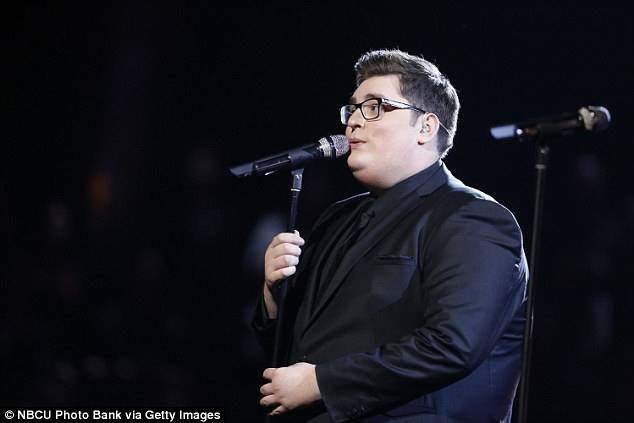 Living the dream: The singer turned all four chairs during the blind audition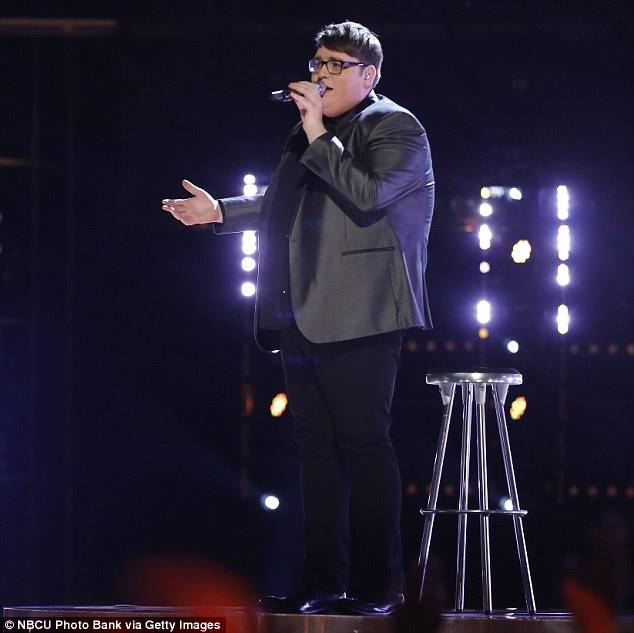 Challenging songs: Jordan has taken on tough songs all season including Halo by Beyonce
Team Blake's country girl Emily then donned a glittering gown and cowboy boots for Elvis' 1968 track Blue Christmas.
'I talk to Blake all the time about you, you have such a classic voice,' Pharrell beamed.
'You are the real deal,' agreed Adam while Blake praised her vocal range and her ability to 'ramp it up' as each song builds.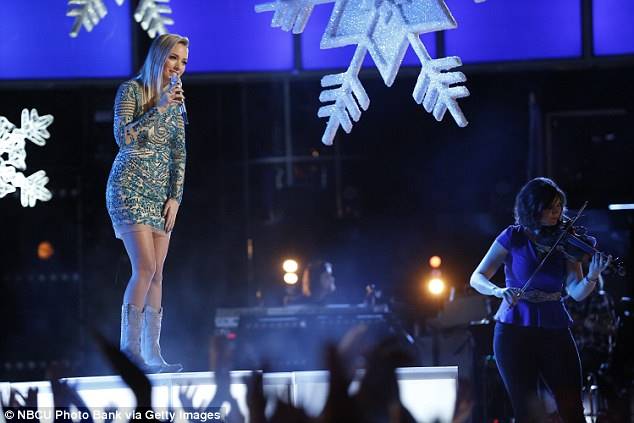 Real deal: Emily hit the right note while performing Blue Christmas
'You are so unbelievably ahead of your time sis,' he smiled.
Emily and Blake later teamed for Dolly Parton and Kenny Rogers' duet Islands In The Stream.
They changed the lyrics from 'making love with each other to 'because we love one another'.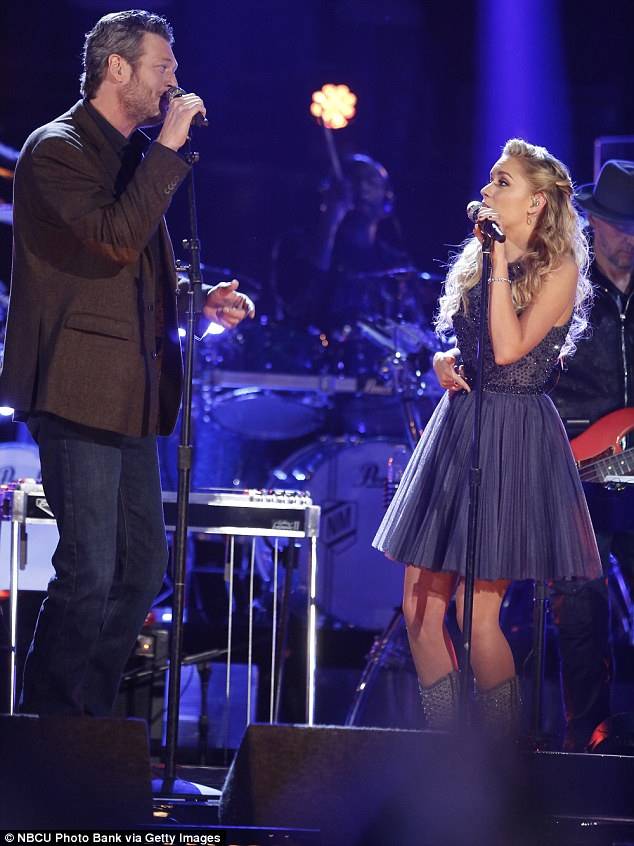 Country classic: Blake and Emily performed the hit song Islands In The Stream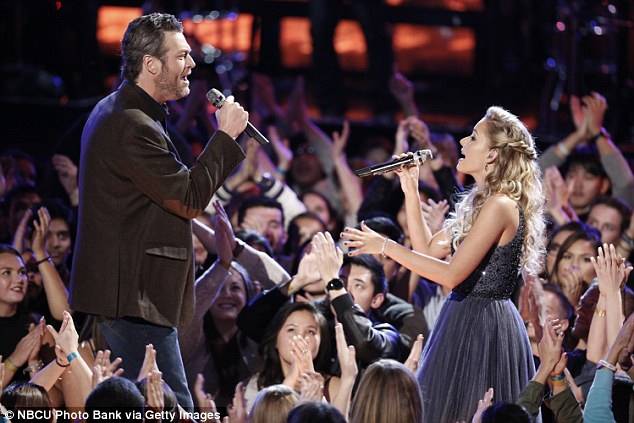 Changed the lyrics: Emily and Blake altered they lyrics to the song made famous by Dolly Parton and Kenny Rogers
Blake then hit the stage with Arkansas man Barrett Baber for Glen Campbell's 1970's hit Rhinestone Cowboy.
For his solo Barrett, a high school teacher, did the sentimental track Die A Happy Man by Thomas Rhett.
'It's for my wife,' said the 35-year-old singer and father-of-two.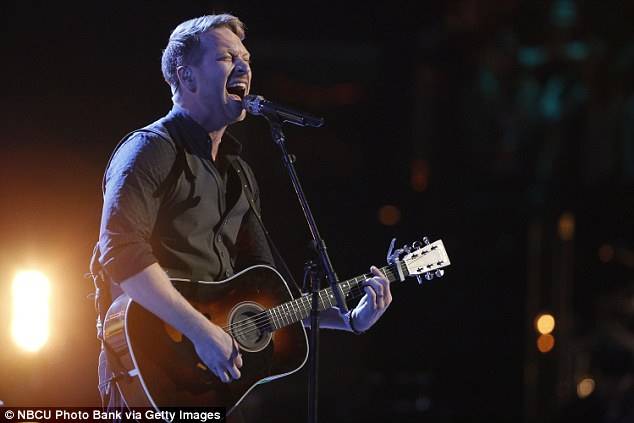 Arkansas native: Barrett Baber performed Die A Happy Man for his solo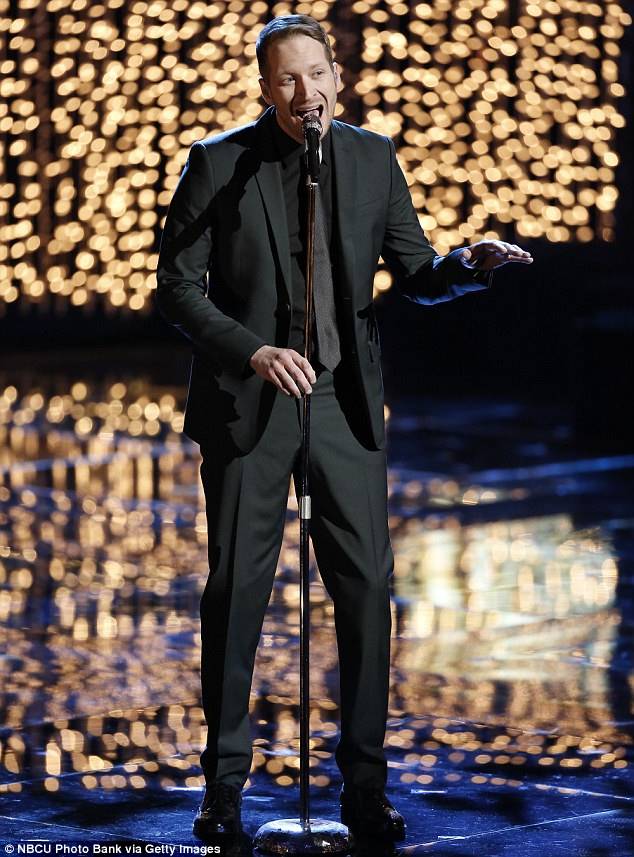 Getting stronger: The husband and father of two also performed Silent Night
'I felt like I was on another planet throughout that,' said Gwen.
'You just lay your heart out there for everybody to see,' said Blake, 39.
Barrett's festive track was Silent Night.
'Your whole life story comes out every time you sing,' said Pharrell, calling it 'next level'.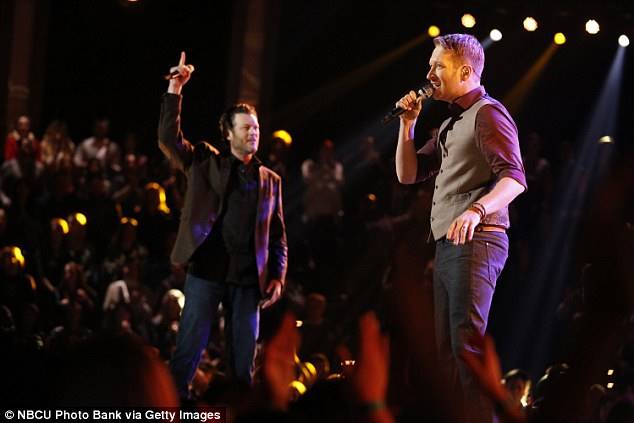 Country singers: Blake and Barrett teamed up for Rhinestone Cowboy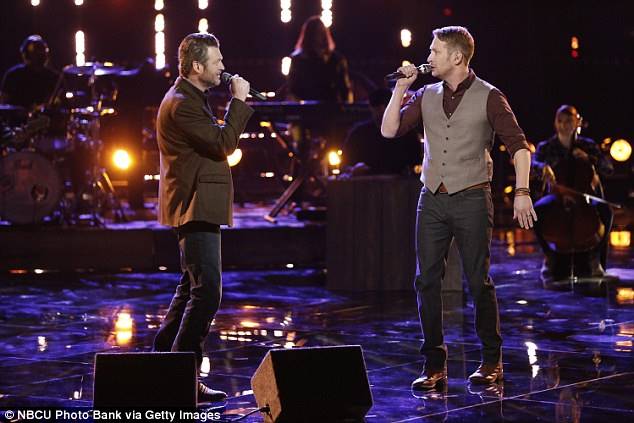 Stirring rendition: Barrett held his own with Blake during the duet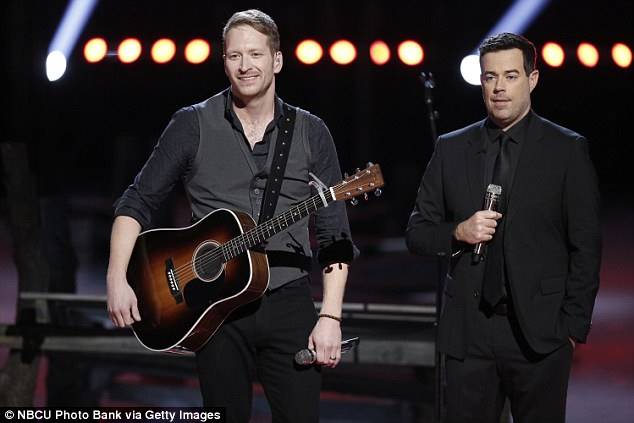 The host: Carson Daly kept the two-hour show moving
Team Gwen's Jeffery Austin then went with a carol, O Holy Night, with tinkling piano and a sparkly jacket.
Gwen looked tearful again.
'I'm obviously going to be really emotional tonight, she sniffed, you look so cute…you're so talented,' she told the 24-year-old Chicago native.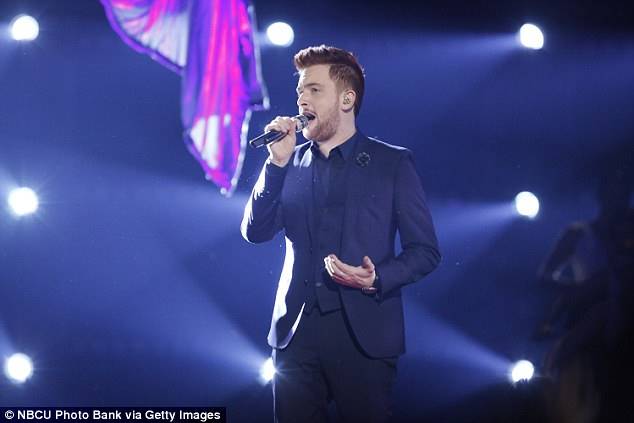 Chicago native: Jeffery Austin performed O Holy Night and nearly made Gwen cry
'There's a sweet spot in your voice that shakes the rafters,' said Adam, 36.
Jeffery, a former PR man, also sang Stay by Sugarland.
'You snuck up on all of us,' said Blake.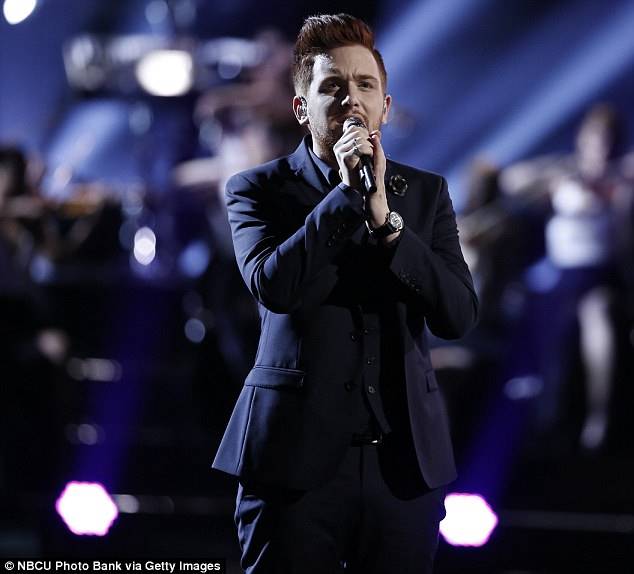 Belting it out: Gwen's only singer in the finals also performed Stay by Sugarland
Jeffery was accompanied by Gwen for his third song – Stevie Nicks and Don Henley's duet of Love And Lace.
The second part of the live Voice finale will air on Tuesday on NBC when a season nine champion will be crowned.
The season finale also will include appearances by Justin Bieber, Tori Kelly, The Weeknd and Usher.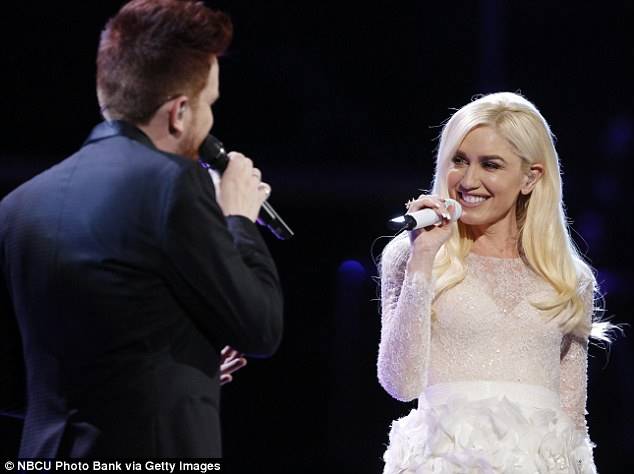 Teaming up: Gwen joined her singer for a duet of Love And Lace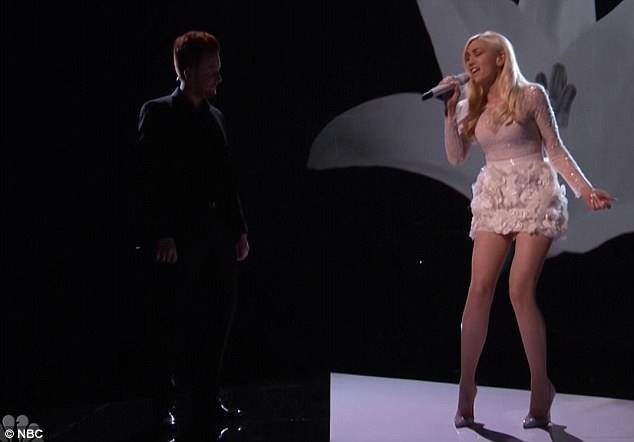 Little white dress: Gwen changed into a little white dress for her performance