The Truth About Blake Shelton And Gwen Stefani's Super Glamorous Life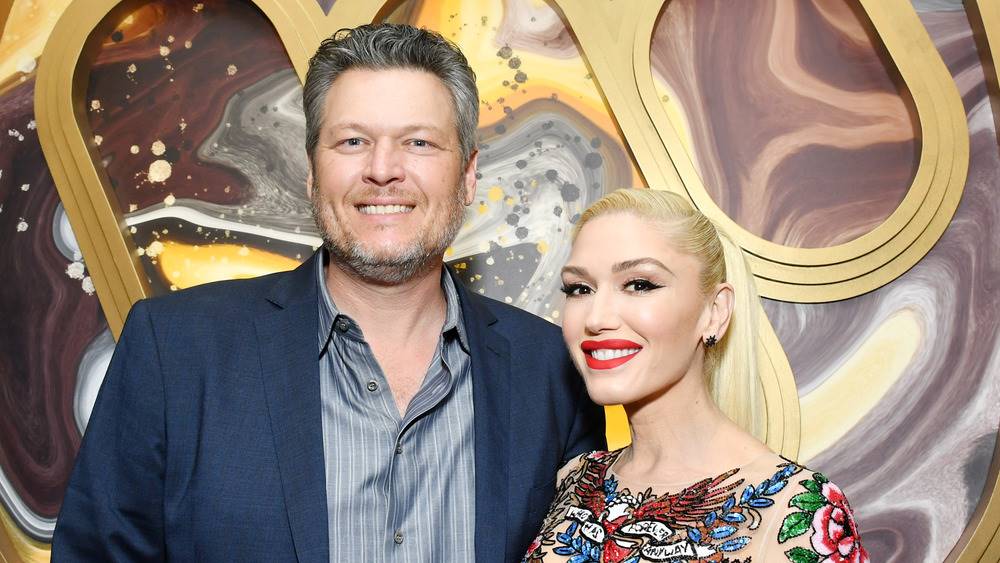 There is no doubt that Blake Shelton and Gwen Stefani are one of Hollywood's most buzzed-about couples. So what happens when one of the highest-paid country stars is engaged to one of the most famous pop goddesses in the world? Well, for one, the songbirds enjoy the best possessions and experiences money can buy.
Although they came from different worlds, the country crooner and edgy rocker met on the set of "The Voice" in 2014, endured highly publicized divorces, and have been inseparable ever since they began dating in 2015. "Blake saved my life. ... We are just having the time of our lives," Stefani told Entertainment Tonight. And their life is quite a glamorous one with mansions across the country, designer clothes and jewelry, and invites to exclusive parties.
With chart-topping albums, the pair has benefited financially from their individual careers. Now, the power couple is growing their combined worth by recording duets together. "I want to do everything with Blake," Stefani told Access, and that partnership is adding to their bank accounts. Coupled with the money they earn from sides hustles, life is good in the Stefani-Shelton household. Here's a look into the glamorous union of these musical superstars.
They made their debut as a couple on an Oscar party red carpet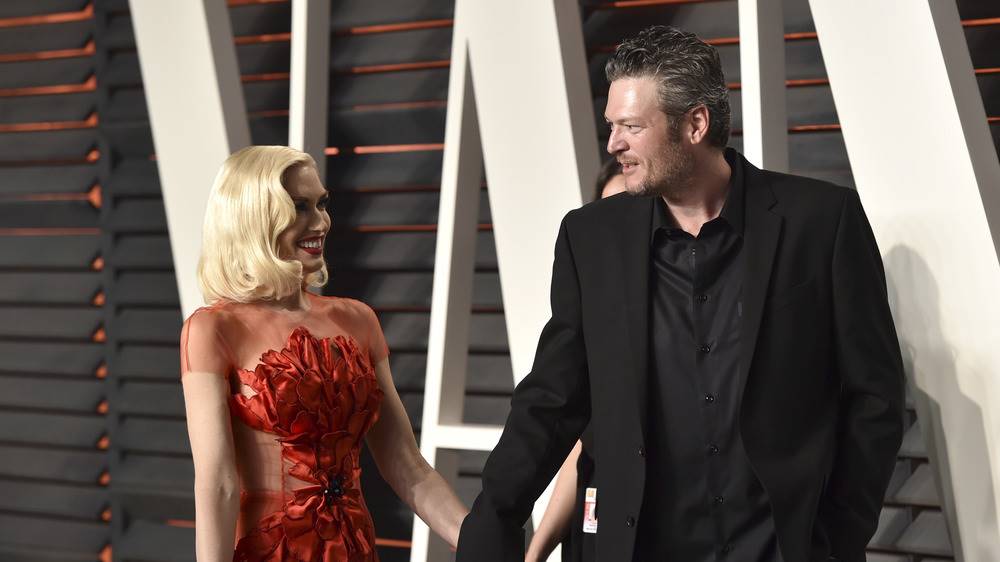 When it was time to go public with their relationship, the couple did it style. In February of 2016, Blake Shelton and Gwen Stefani used Vanity Fair's Oscar party in Beverly Hills to tell the world they were a hot new item (via E! News).
As for their sartorial choices, the diva turned heads in a sheer floral gown by Yanina Couture and a Jimmy Choo clutch, and her partner paired jeans with a black blazer and signature cowboy boots. Vanity Fair even posted a photo of the couple on their Instagram handle, with the caption, "@blakeshelton can't keep his eyes off @gwenstefani at the #VFOscarParty, and who can blame him?"
"They acted like giddy teenagers at a high school dance," a guest told People. "They were holding hands the whole night and didn't leave each other's sides. I don't think either of them stopped smiling the entire time they were there." It was at that afterparty where Stefani belted out a medley of her greatest hits like "Hollaback Girl" and "Used to Love You," which is reportedly about her ex-husband, Gavin Rossdale of band Bush fame.
Blake Shelton proposed to Gwen Stefani with a pricey engagement ring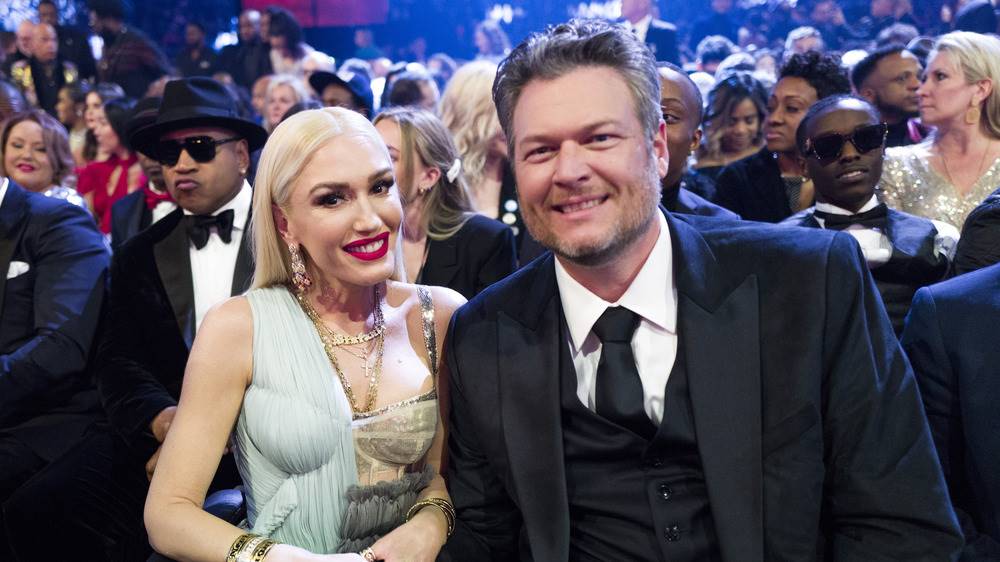 In October of 2020, after five years of dating Gwen Stefani, Blake Shelton got down on one knee in his native Oklahoma to pop the question. The country music star did so with an eight to 10-carat massive sparkler that cost anywhere from $500,000 to $800,000 (via Delish). As to be expected, his new fiancée wasted no time in proudly posting her rock on Instagram. At the People's Choice Awards, Gwen Stefani debuted her engagement ring on her Instagram story (via Access Hollywood). And in early December of 2020, Stefani wore the ring on "The Voice," the show where she met her future husband. It was the first time she had it on during the reality show's taping.
As for the proposal, Shelton wanted to keep it traditional. A source told Us Weekly, "Blake had the ring custom-designed, and asked permission from her dad before asking Gwen," noting, "It meant so much to Gwen that Blake was so traditional about it." People reported that Shelton also ran the impending proposal by Stefani's three sons from her marriage to Gavin Rossdale, Kingston, Zuma, and Apollo.
They fell in love on the set of The Voice, where they both make millions per season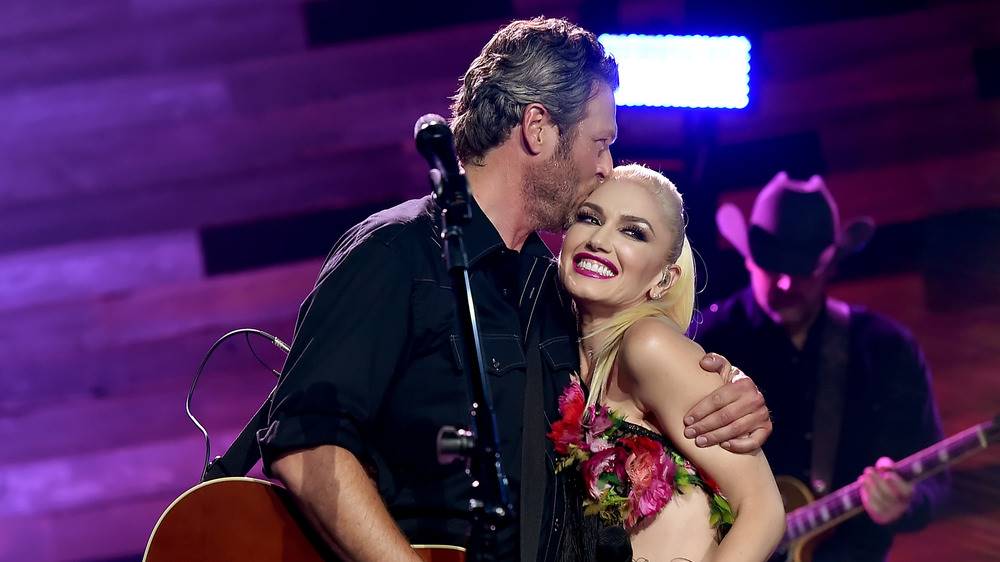 Although they're both veterans of the music industry, Blake Shelton and Gwen Stefani actually met on "The Voice" in 2014, where they both were coaches for the reality show's contestants. "I did not know him, but you get to know him on the set because he's so funny and he's so lovely," Stefani said on "The Howard Stern Show." 
At that time, they were both married to other musicians — Shelton to country singer Miranda Lambert (here's what really happened between Blake Shelton and Miranda Lambert) and Stefani to rocker Gavin Rossdale. That fact didn't stop Stefani from posting an Instagram selfie of her and Shelton soon after they met, with a heart emoji followed by the word "him." In the summer of 2015, both filed for divorce one month apart — Shelton in July and Stefani in August. Stefani told Howard Stern that it was "unbelievable that God would put us in a position to have each other at that moment, in the same exact moment."
For their work on the competition show, the talented pair make a pretty penny. Each reportedly earn over $13 million per season, according to StyleCaster.
Blake Shelton and Gwen Stefani's LA mansion set them back $13 million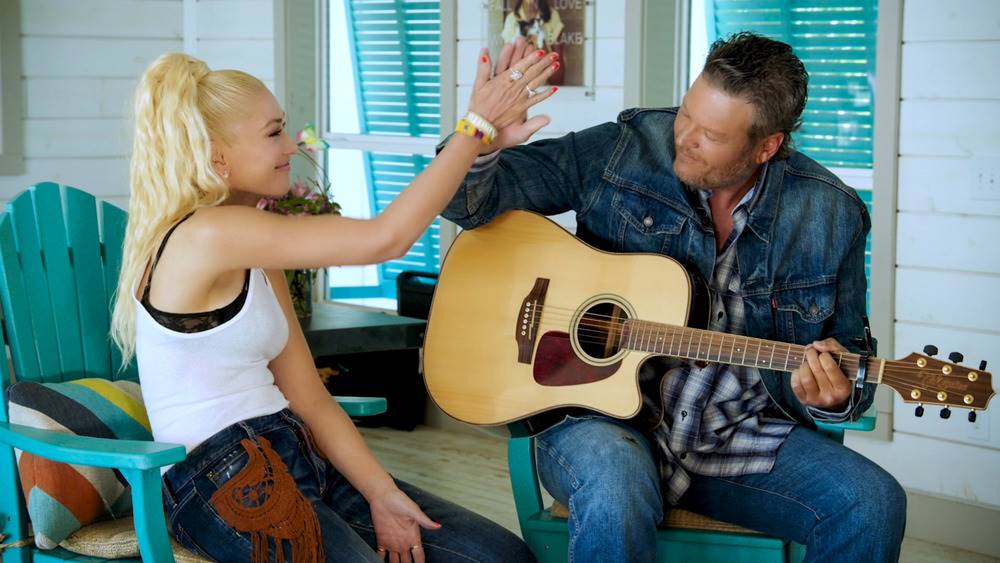 In May of 2020, Blake Shelton and Gwen Stefani purchased a home together and moved into the not-so-humble abode with the songstress' three sons during the COVID-19 pandemic. Located in Encino, Calif., it cost a staggering $13 million. The 13,000-square-foot mansion that sits on a gated 1.6-acre lot, boasts a home theater, four-car garage, and a pool with a spa and nearby wet bar (via Daily Mail). Another perk of the luxury property is that, although it's secluded, it's close to the city and is only a 20-minute drive to "The Voice" (via Country Fancast). 
"They are very happy to be settled at last in their family home," a source told Us Weekly. "Gwen wanted to be moved in for the start of the school year, even though the kids are doing school at home because of COVID-19."
Even before they got together, the musical duo was used to living lavishly. Shelton sold the Tennessee home he lived in with his ex-wife Miranda Lambert for $2.25 million, and Stefani gave up the mansion in Beverly Hills she owned while married to Gavin Rossdale for $21 million (via The Sun).
Blake Shelton and Gwen Stefani have very lucrative side hustles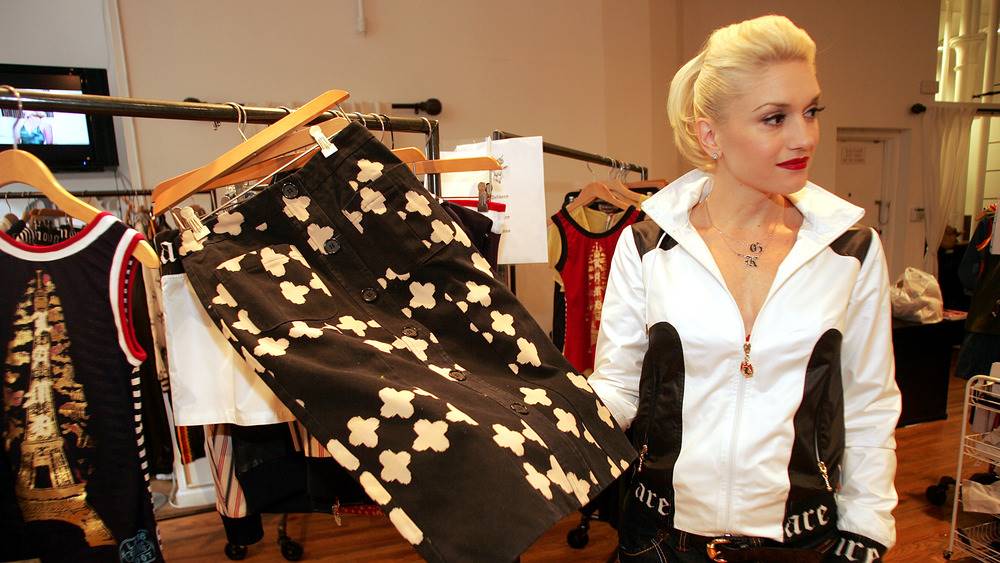 Besides the chunk of change they make from their successful music careers, Blake Shelton and Gwen Stefani also pay the bills with money from other ventures. To add to their flowing revenue stream, they ink deals in other industries. 
For one, Gwen Stefani, who's had many changing looks over the years, has made quite a name for herself in the fashion industry. With her clothing and eyewear lines, the fashionista has racked up $1 billion in retail sales to date. Her unique creations are found in places like Sephora and Target. The "Just a Girl" singer is living every girl's fantasy with access to the hottest trends at all times. "I'm really spoiled because instead of having to go shopping, I get to fill my closet with my designs," the singer-turned-designer told People. 
As for Shelton, when he's not in the recording studio, he's running Ole Red, a restaurant chain with locations in Oklahoma, Florida, and Tennessee. The country singer spent $9 million to renovate one of its locations, complete with a two-story bar and restaurant, performance space, dance floor, and outside terrace (via Knox News). He's also a partner in the vodka company Smithworks, which expanded nationwide in 2020. 
Blake Shelton and Gwen Stefani have won top awards in the music industry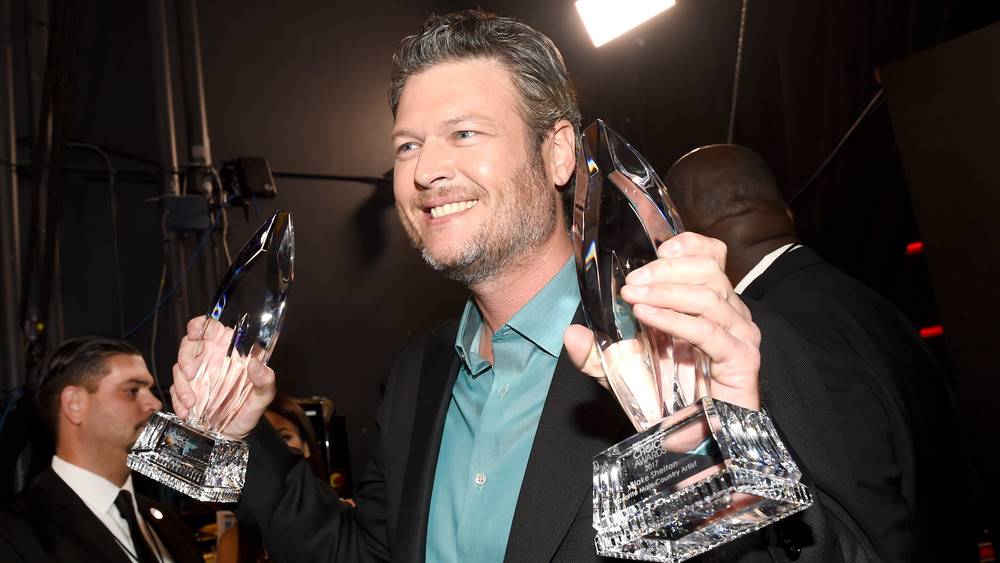 The dynamic duo has taken home the highest honors in the music industry. Blake Shelton literally made history as being the first country music artist to reach No. 1 on the Billboard Artist 100 in 2014 (via Rolling Stone). And in 2016, he celebrated another milestone of having earned a combined $10 million in sales. As for awards, he's collected multiple CMA, ACM, AMA, and People's Choice awards. In his acceptance speech for his 2020 People's Choice Award, he thanked his better half, mentioning her by name and saying, "Thanks for my inspiration."
In 2016, Gwen Stefani hit her own career record when her album "This Is What the Truth Feels Like" reached No. 1 on the Billboard 200 chart. With this achievement, she became one of only five women to have a chart-topping album as a member of a band and also as a solo artist (via Forbes). The songstress has sold more than 50 million units worldwide and has won three Grammy awards for her work. Besides those incredible feats, she also has MTV Video Music Awards, Billboard Awards, an American Music Award, and a Brit Award in her trophy collection.
Blake Shelton and Gwen Stefani live large in Oklahoma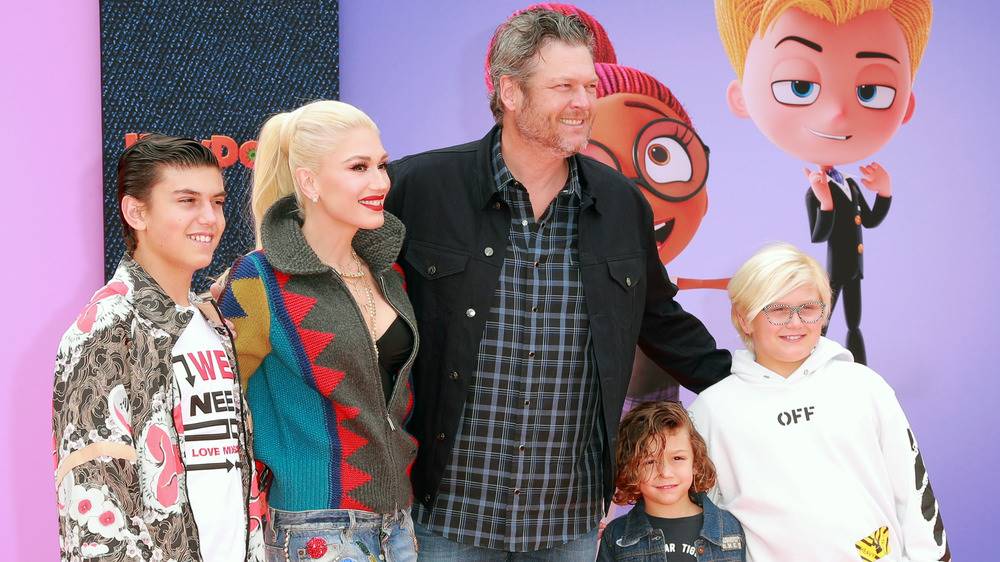 When they decided to take the next step in their relationship and cohabitate, the happy couple shacked up together at Blake Shelton's Oklahoma ranch. The singer spent part of the coronavirus quarantine there with Gwen Stefani and her three sons. The house sits on 1,300 acres that are complete with ponds as well as a barn for horses (via Hello! magazine). They're surrounded by nature and animals, as evidenced when Shelton made an appearance from his home on "The Tonight Show Starring Jimmy Fallon."
The sprawling residence is actually Hawaiian-themed, with palm trees, a swimming pool, and swim-up tiki bar on the property. The balcony in the couple's bedroom overlooks Lake Texoma, the largest lake in the state (via Country Fancast). It's so impressive that Shelton filmed the music video for the song "Hell Right" on its grounds. 
As for Stefani's brood who are used to living in California, their new digs have put them in touch with nature. "It's been a lot of fun for me to be the one to get to expose them to this — out in the country," Shelton told Entertainment Tonight. "They love it so much."
They rub elbows with famous friends at the most exclusive parties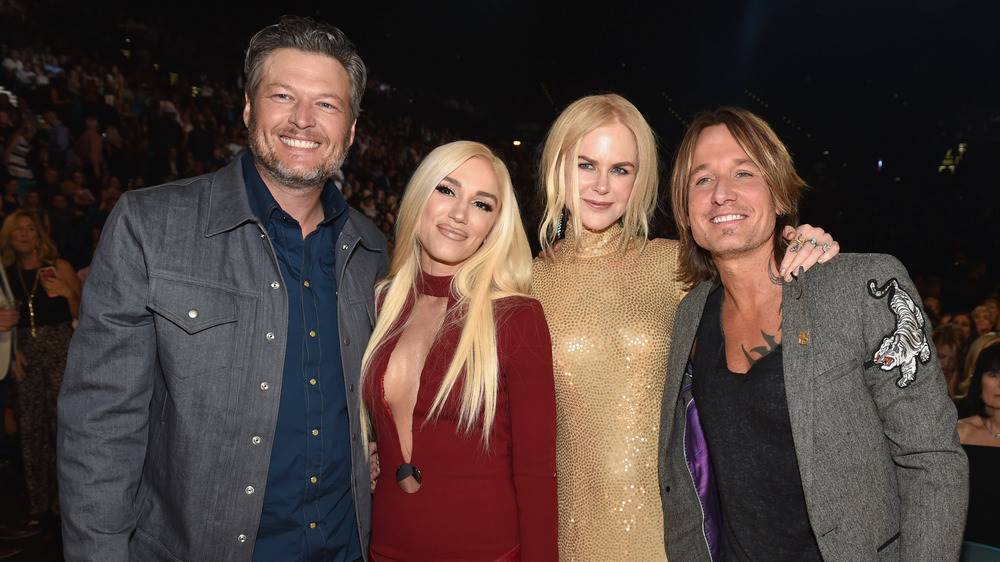 Being that they're huge names in the music industry, Blake Shelton and Gwen Stefani spend time socializing with other famous musicians. Besides their costars on "The Voice" — like Kelly Clarkson, John Legend, and Carson Daly — the two surround themselves with equally talented people. The year they started dating, the pair attended two exclusive Halloween bashes — one hosted by Jared Leto and the other thrown by George Clooney — with stars like Leonardo DiCaprio on the guest list (via Entertainment Tonight).
As one of the most-talked about Hollywood couples, they get invited to star-studded soirees such as Vanity Fair's Oscar party, with famous duos like Justin Timberlake and Jessica Biel. The adorable pair also attend high-profile shindigs like Clive Davis' pre-Grammys party, which was a who's who of celebrity couples including Legend and Chrissy Teigen and Russell Wilson and Ciara. At the 2020 Grammys, Shelton named-dropped a roster of famous names in music on Instagram. "I got a high five from Smokey Robinson, I got a hug from Shania Twain, I got a hug from Tanya Tucker, I got a butt grab from Keith Urban," he said (via Country Living).
Over-the-top presents are a thing in Blake Shelton and Gwen Stefani's household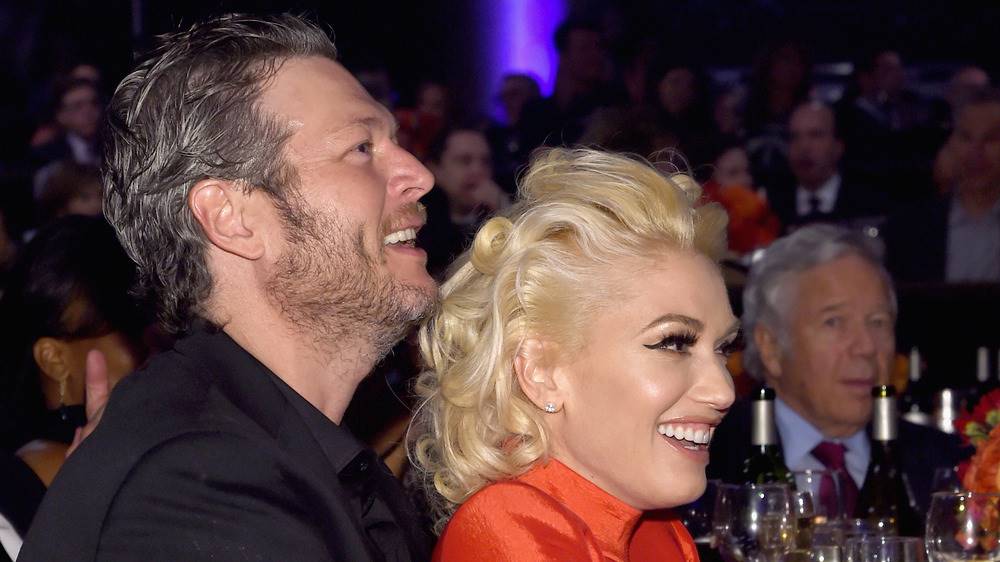 The couple spares no expense when it comes to gift giving and are known to surprise one another with extravagant presents. For Blake Shelton's 42nd birthday, Gwen Stefani actually installed a flag pole at his home! The birthday boy also was gifted a massive birthday cake in the shape of a vodka bottle from Smithworks Vodka, the brand in which he is a partner (via People). For his 44th birthday, Blake Shelton's thoughtful fiancée went all out, gifting her groom-to-be with an over-the-top tractor cake with replicas of the two of them in fondant perched on top on the decadent creation.
For her birthday in 2017, Shelton gave his lady love a Cartier diamond necklace reportedly worth over $60,000 (via Celebrity Insider). And when she turned 51, he presented her with another diamond stunner — a "5" necklace to represent their five years together (via CheatSheet). When they celebrated Valentine's Day together in 2020, a very smitten Shelton sent his newfound love several dozen red roses shaped in a heart. An impressed Stefani took to Instagram to gush about the romantic gesture (via Taste of Country), saying, "They're absolutely ridiculously beautiful."
Blake Shelton and Gwen Stefani got married in an intimate yet spectacular fashion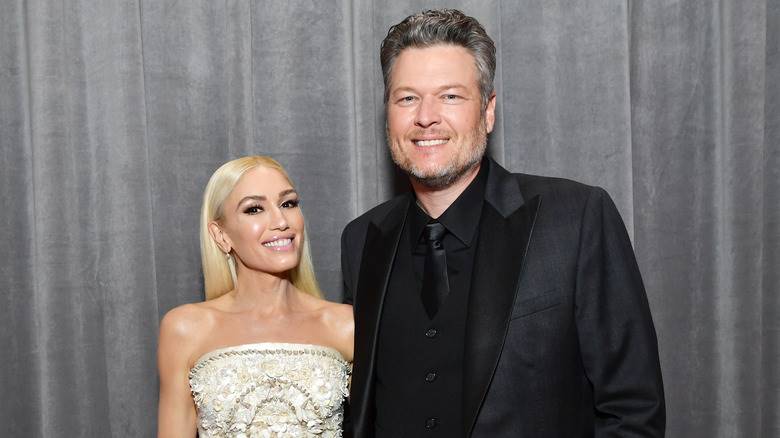 The COVID-19 pandemic dashed many couples' plans for their weddings, but Blake Shelton and Gwen Stefani refused to let anything stop them. As People reported at the time, the happy couple tied the knot on July 3, 2021, in a makeshift backyard chapel on their own land at Shelton's Oklahoma ranch with just 40 guests in attendance. A source noted, "They didn't want a circus. In the end, they just wanted to have this moment with their loved ones." However, the details were suitably stunning regardless. Their cake was an ornately decorated, five-tier concoction and was topped with the traditional bride and groom.
Stefani wore two dresses, both by Vera Wang. The first was a stunning, deep-necked, silk and tulle creation while the second was a strapless minidress, which the No Doubt star naturally rocked with matching stiletto cowboy boots. Brides estimated her first dress cost around $10,000, with the second setting Stefani back around $5,000. Her personalized veil, meanwhile, reportedly cost an additional $5,000. The reception eventually moved to Shelton's second home, on the shore of Lake Texoma in Kingston, culminating with spectacular fireworks.
Together Blake Shelton and Gwen Stefani have a stunning net worth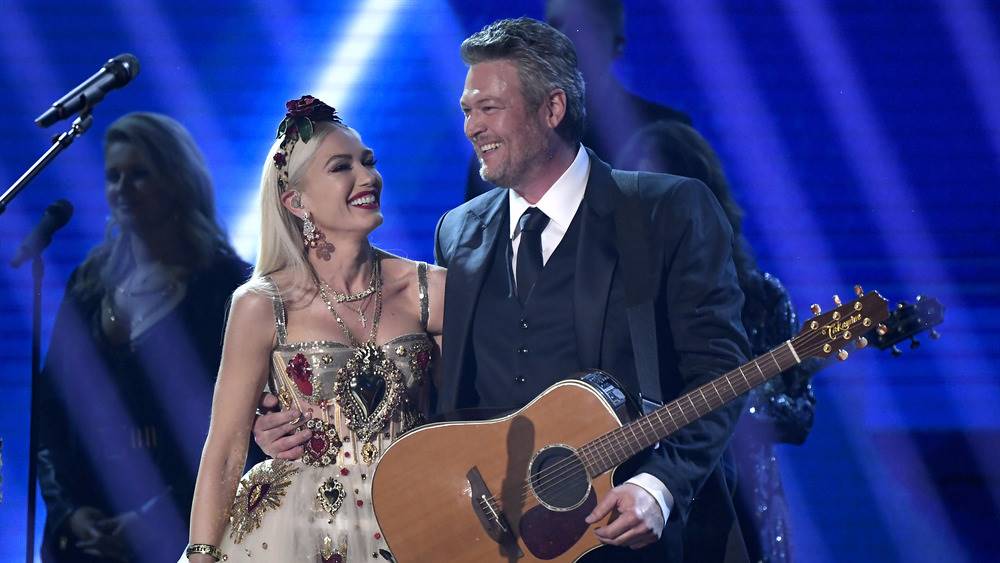 As a married couple, Blake Shelton and Gwen Stefani's combined net worth is a staggering $250 million. According to Us Weekly, they devised a prenuptial agreement to protect their assets before getting married. A source told Us in November 2020, "They have been in prenup talks for a few months. The process has been extremely effortless."
Blake Shelton alone is worth $100 million, according to Celebrity Net Worth. As one of the most successful country acts in the world, he's released more than 10 albums with dozens of songs reaching Billboard's Hot 100. Besides selling more than 10 million albums and 35 million singles, he reportedly earns an impressive $1 million per concert. Not to mention, he also, of course, takes home millions per season with his gig on "The Voice"! 
As for his equally successful partner, Gwen Stefani, the songstress-turned-entrepreneur is worth $150 million. With a resume that includes being a member of the successful band No Doubt (here's why No Doubt split up), a solo career, fashion labels, and her job on the "The Voice," it comes as no surprise that she is rolling in dough.
They're on so many magazine covers, Gwen Stefani wants to make wallpaper out of them all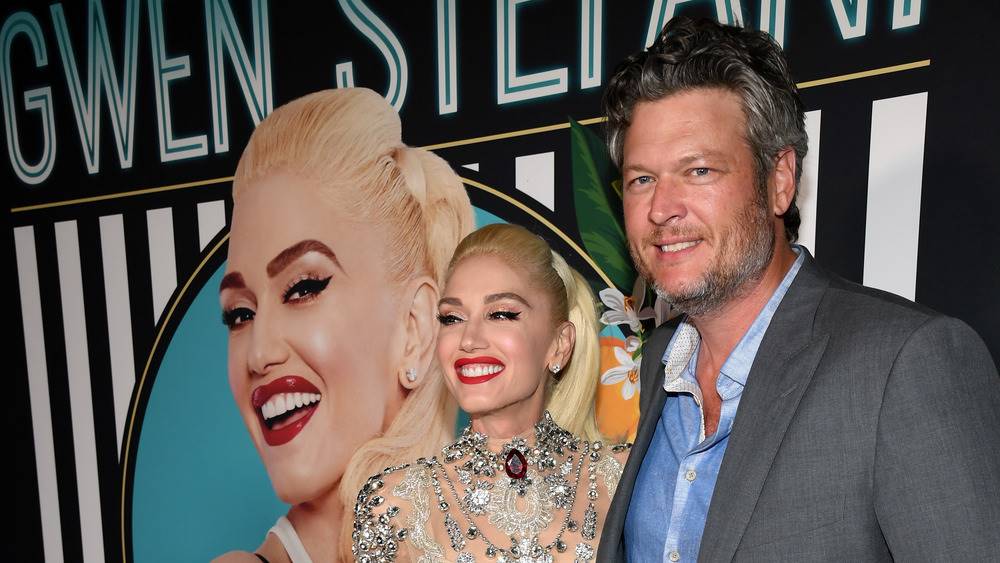 Blake Shelton was honored by People magazine as its Sexiest Man Alive in 2017. When the reserved country star heard about the title, he was skeptical at first, joking that the publication had run out of celebrities. That's when his girlfriend, Gwen Stefani, intervened. "She goes, 'Listen to me, you're going to regret this for the rest of your life if you don't take this gift and just live in the moment,'" Shelton told People. His other half has also graced coveted covers of magazines. Notably she was featured on the cover of Rolling Stone in 2005 and another time before that with her band No Doubt in 1997. 
Their A-list life and star power generates a buzz, and the media takes great interest in the couple. In an interview with Access, Stefani detailed the gossip that has swirled about the highly profiled courtship, including pregnancy and split rumors. "We talked about doing some wallpaper out of all of the covers that we have been so blessed to be put on through the years," she said. That's the price they have to pay for fame!
Blake Shelton and Gwen Stefani have makeup artists and personal trainers
The blonde-haired beauty has her own team to help her achieve her signature sleek, yet edgy look. For part of her beauty regime, Gwen Stefani calls upon celebrity makeup artist Gregory Arlt, who told Billboard he aims to "celebrate her femininity and make her look like she was glowing from within." The talented artist also applies lipstick and foundation to the faces of Angelina Jolie and Dita von Tease (via E! News). And to maintain her svelte figure, Stefani has her own personal trainer to the stars, Gunnar Peterson, who also coaches Khloé Kardashian, Jennifer Lopez (via Life & Style), and athletes from the NBA, NHL, NFL, MLB, and USTA.
As for hired help, it was reported that Stefani's ex-husband, Gavin Rossdale, cheated on her with their nanny, Mindy Mann (via E! News). After news of the scandal broke and the babysitter was fired, Stefani hired a new assistant (via Radar Online). 
Blake Shelton also employees many people, especially to staff his Ole Red franchise. When his venues were forced to shutter due to the COVID-19 pandemic, he went on record stating that he would continue to pay his team.
Gwen Stefani had custom sneakers made with Blake Shelton's face on them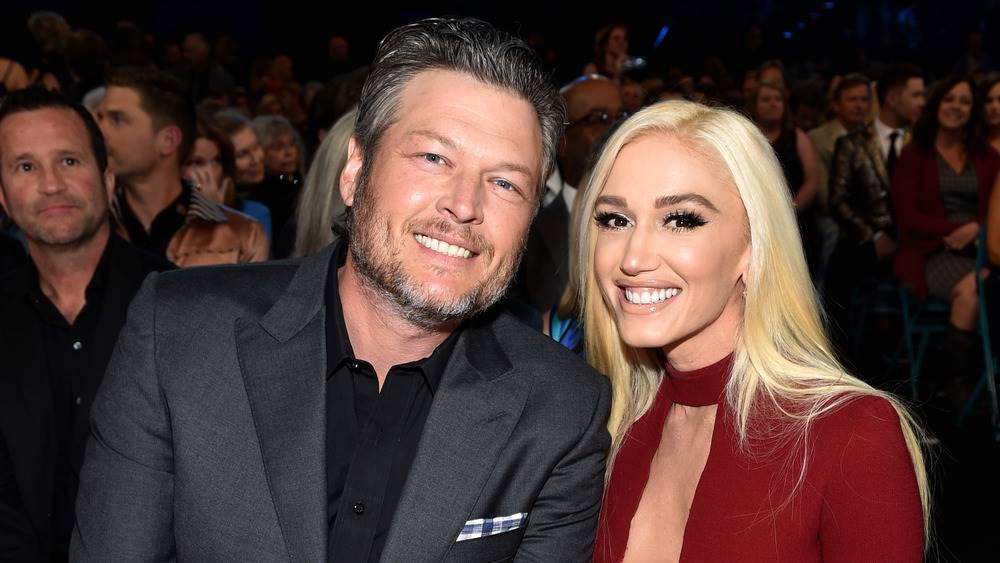 The celebrity couple goes to great lengths to prove their unwavering devotion to one another. In one of her most publicized, over-the-top public displays of affection, Gwen Stefani actually got a pair of sneakers custom made with Blake Shelton's face on them! People reported on the black-and-white checkerboard Vans with Shelton's mug emblazoned on the front as the couple walked hand in hand in Beverly Hills. 
Stefani proudly showed off the elaborate shoes she designed herself on social media. On her Instagram Story, she posted a snap of her feet lounging in the sneakers with Shelton in his cowboy boots right beside her (via People). Now that's what we call a show of commitment to fashion — and each other!
The rock goddess is also known to accessorize with gold "Stefani" and "Shelton" statement necklaces. These personalized pieces have made their debut on Stefani's neck both on set for "The Voice" and in an Instagram video she filmed from home. She also donned the matching chains in a video she posted on Instagram in which she harmonized with her beau to Bob Marley's classic anthem "One Love."
The love songs Blake Shelton and Gwen Stefani record together climb the charts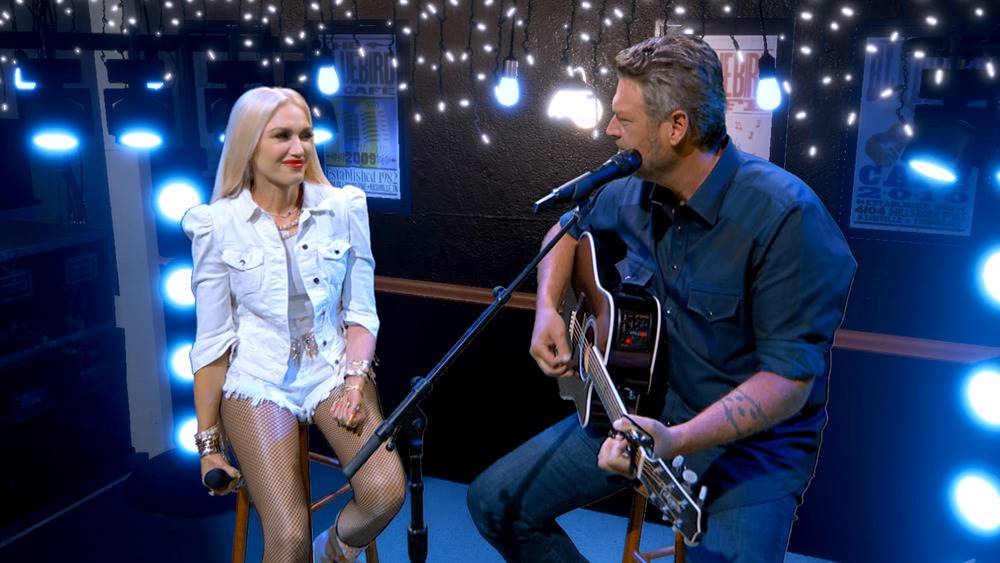 The songbirds have used their musical talents to record a soundtrack to their love story with romantic ballads that top the charts. In May of 2016, Blake Shelton and Gwen Stefani released their first joint effort with "Go Ahead and Break My Heart." In an interview on "The Ellen DeGeneres Show," the country star admitted that he penned the anthem just to gain the attention of his new love interest. "I only started the song to impress her, to be like, 'Hey, I'm writing a song about you,'" he said. After his new leading lady heard the tune, she came in and wrote the second half. This moving duet made the Billboard's Hot 100.
After that song, they released "Nobody But You" in 2020. Lyrics like "I don't want to live without you" showed the intensity of their partnership. It also held a top position on Billboard's Top 100 chart.
During the 2020 coronavirus lockdown, they recorded the chart-topping single "Happy Anywhere" from their Oklahoma home in sweltering 105-degree heat. The video was shot by Stefani's brother and includes clips Stefani filmed of the two on her phone (via Entertainment Tonight).
Recommended