Adorable Couple!Gwen Stefani AND Blake Shelton Deliver Beautiful Rendition Of 'Nobody But You' Duet With Orchestra!
Gwen Stefani shocked fans in attendance at her Hollywood Bowl concert on Friday evening (June 3) with a surprise duet alongside her husband and country superstar  Blake Shelton. The concert marked the kickoff to Hollywood Bowl's 100th Season and the first show of the year at the iconic Los Angeles venue.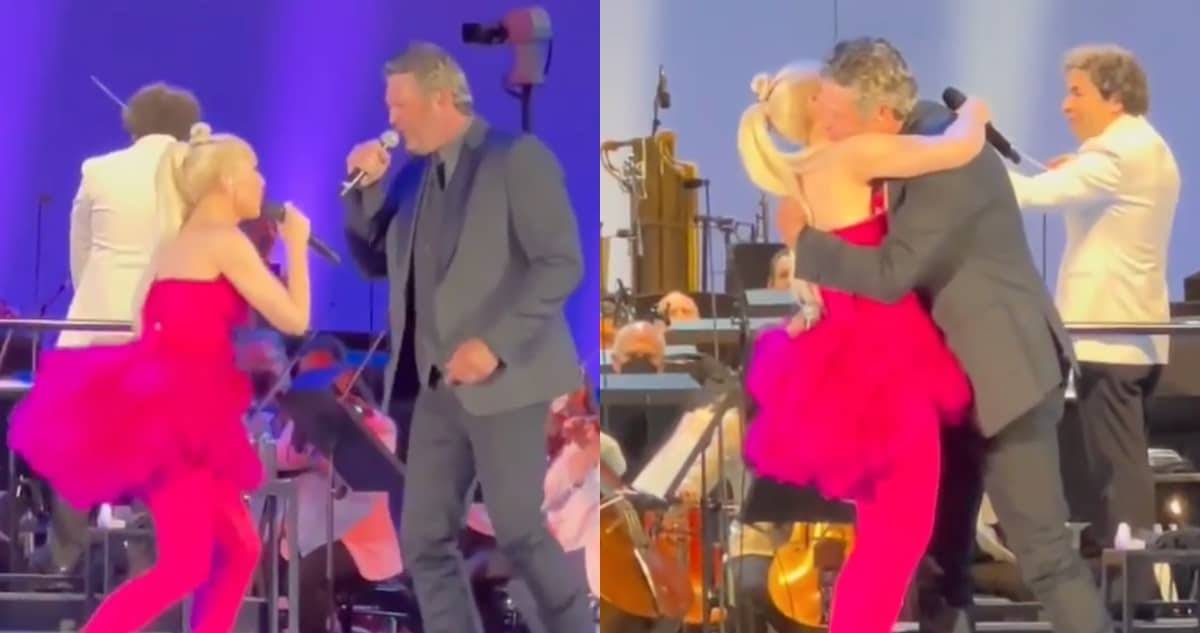 Joined by the Los Angeles Philharmonic, Stefani and Shelton performed "Nobody But You," a track co-written by Ross Copperman, Shane McAnally, Josh Osborne and Tommy Lee James that appears on Shelton's 2019 compilation album, Fully Loaded: God's Country.
The couple, who tied the knot in July of 2020 in Oklahoma, delivered a loving performance of the track as Stefani and Shelton proved true love still does exist with their flirty performance. 
Stefani, donning a hot pink tutu dress, and Shelton lovingly stared into each other's eyes while performing the tune before sharing a hug and kiss as their joint performance came to an end.
The duet is the couple's second chart-topping collaboration together with the other being "Happy Anywhere."In addition to performing a duet alongside Shelton, Stefani also delivered impressive orchestral arrangements of her classic hits such as "Don't Speak," "Just A Girl" and many others.
During a recent interview with People, Shelton gushed over his wife, Stefani, saying that she is "magical."
"I wish everybody could have a chance to meet and talk to Gwen Stefani at some point in their life because you'll just be a better person for it, is the only way I know to say it," Shelton told the outlet of his wife. "She's just a magical person to be around. She really is one of a kind and I … That's another one of those things. How could you even dream that? You know? And it happened," he added.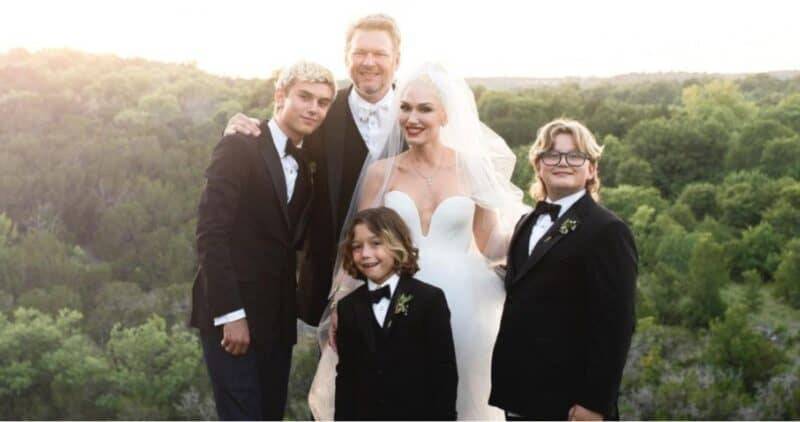 Shelton isn't just in love with wife Stefani, though. The country singer also recently shared how much he adores his step-sons, Kingston, 16; Zuma, 13; and Apollo, 8.
Shelton said he relates to his step-sons' situation because growing up, he also had a step-father, who set a great example for him.
"The example that my dad set for me was that wasn't even a thing, that was not even a consideration," he explained. "You got three boys, awesome. My dad did it. My dad raised me. I can do this. I didn't know what I was signing up for, but I was all about signing up for it. And every day I fall in love with the boys as much as I do with Gwen," he said.
Shelton surprised Stefani by writing a wedding song for her called, "We Can Reach The Stars" when they tied the knot back in 2021.
The two superstars will soon celebrate one year of marriage next month.
Shelton and Stefani, also known as The Shelton's, tied the knot after six years together during an intimate ceremony in front of their closest family and friends on July 3. The elegant Carson Daly-officiated ceremony took place inside a chapel on Shelton's ranch, built exclusively for the superstar couple to say their "I Do's."
Shelton and Stefani got engaged back in late October 2020 in Shelton's hometown of Oklahoma. They first met as coaches on NBC's The Voice in 2014, following both of their public breakups. The superstar couple began dating in November 2015, just a year after working together as coaches on The Voice.
The couple has gone on to release four duets together throughout their relationship thus far.
Stefani will return to NBC's The Voice this fall for the show's 22nd season alongside husband Shelton, John Legend, and the newly added coach, Camila Cabello.