Magnificent Love!Gwen Stefani Joins Husband Blake Shelton to Sing 'Don't Speak' During His Final Night on Tour!
The pair also performed their collaborations "Nobody But You" and "Happy Anywhere"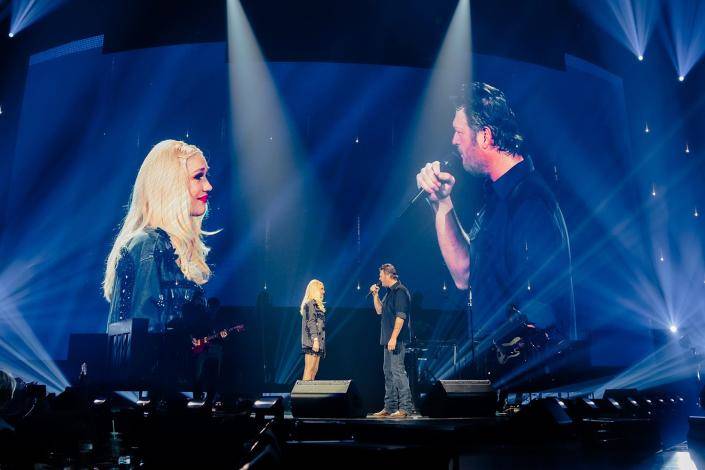 Gwen Stefani is showing support for her husband Blake Shelton while he wraps up his 2023 Back to the Honky Tonk tour!
The "Hollaback Girl" singer-songwriter surprised the crowd at Shelton's concert in Buffalo, New York on March 25 to perform No Doubt's "Don't Speak" as well as two of her collaborations with the country star, "Nobody But You" and "Happy Anywhere."
Stefani, 53, joined Shelton, 46, midway through his set during the final night of his tour to perform No Doubt's signature hit while he accompanied her on guitar.
Related: Gwen Stefani and Blake Shelton's Relationship Timeline
Before she came onstage, the "God's Country" performer told the crowd about how he's been working to strengthen his guitar skills and licks from "Sweet Home Alabama" as well as a Garth Brooks song before launching into "Don't Speak."
The audience cheered as Stefani made an entrance to sing the Grammy-nominated 1996 track, crooning the lyrics: "Don't speak, I know just what you're saying / So please stop explaining / Don't tell me 'cause it hurts."
"This is Gwen Stefani, everybody!" Shelton excitedly told the crowd after the performance, per a fan video shared on YouTube.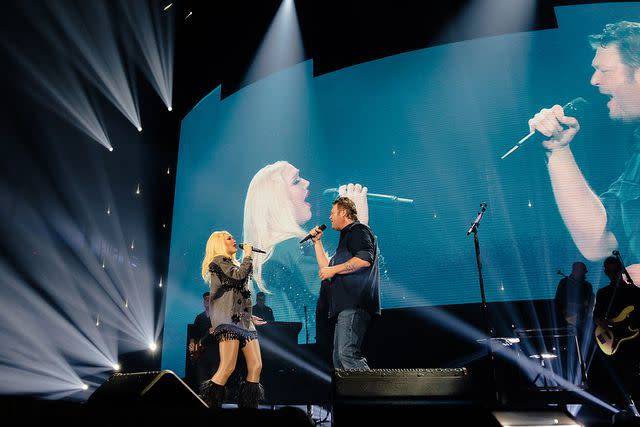 The couple then sang "Nobody But You," sharing a sweet hug and kiss after the performance and holding hands as they walked to the back of the stage to deliver a rendition of "Happy Anywhere."
In a December cover story interview with PEOPLE, Shelton spoke about enjoying simple times with Stefani at home.
"Gwen and I have done so much traveling and touring and work the first half of our lives that now we're like, 'Hey, I'm good to put my sweatpants on at 6 p.m. and watch Ozark eight times,'" he said at the time. "That's our life now, and we love it."