Beautiful family life!Gwen Stefani's Husband Blake Shelton Dresses as the Easter Bunny Scaring Carson Daly's Daughter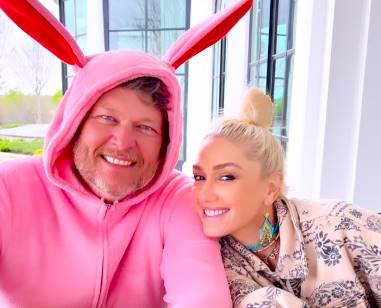 Blake Shelton and Gwen Stefani celebrated Easter in Oklahoma over the weekend with The Voice host Carson Daly and his family. To celebrate the occasion, Shelton dressed up as the Easter Bunny. Everyone got a kick out of it except Daly's daughter Goldie.
Stefani shared an Instagram video on Sunday showing Shelton in a pink bunny onesie, complete with matching gloves and slippers. She added a song to the tune of "Bingo," with the lyrics, "B-U-N-N-Y, B-U-N-N-Y, and Bunny is his name-o."
She captioned the video, "hoppy #Easter from me + the easter blakey." Shelton also shared a clip on his own account, writing, "Happy Easter everybody. You're welcome."
One person who wasn't amused by Shelton's costume was Carson Daly's 2-year-old daughter Goldie. Daly posted an Instagram photo showing Shelton holding Goldie, who's in the midst of crying. Her dad wrote that she was "not so sure about this Oklahoma #EasterBunny."
Carson Daly Talks About Easter with the Sheltons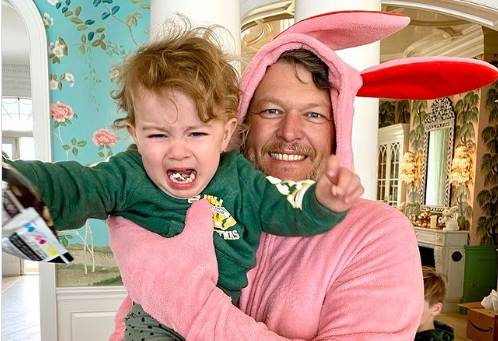 Daly also shared the photo of Goldie with Shelton on TodayMonday morning, as the co-hosts shared how they spent their Easter weekend. He joked that the Easter Bunny didn't come to visit them. Instead, they "had to go in search of the Easter Bunny" in Oklahoma.
"We found the world's ugliest Easter Bunny. His name is Blake Shelton," Daly said, adding that he's more appropriately known as the "Easter Drunky."
Daly's wife Siri also posted photos from Easter weekend, including one in which she poses with Stefani and the singer's sister Jenny. She captioned the post, "Easter… Oklahoma style."
Daly is good friends with Shelton and Stefani, so his digs are all in good fun. The Voice host even officiated the couple's wedding last year. Stefani said they chose him because he's "the one person that we both know so well."